Sesimbra Portugal Weather
The following weather charts display the average weather conditions of Sesimbra Portugal. Sesimbra lies 40km to the south of Lisbon and faces the Atlantic Ocean, meaning that summers are hot and dry while winters can be unpredictable.
During the summer tourist season temperatures are hot, with long sunny days and there is never any rain. Sesimbra has pleasant weather in early spring and starts to be warm enough for the beach by late spring.
The weather stays nice until the end of September when the temperature starts to drop and the number of gray, wet days increases.
Related articles: Sesimbra introduction - Costa da Caparica
Sesimbra Portugal Average Weather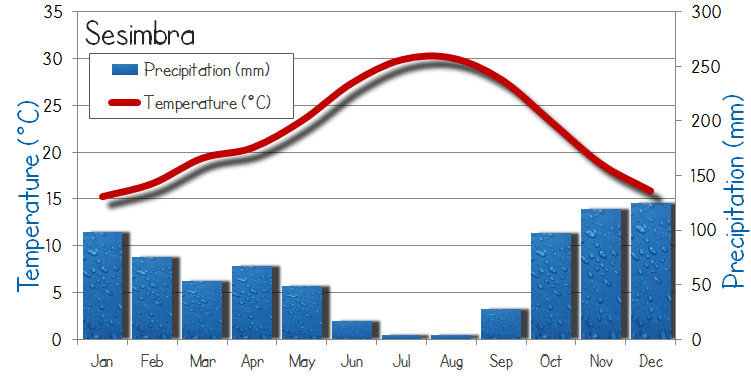 The Average weather of Sesimbra
The best season to visit Sesimbra is during spring or early autumn; the weather is good warm enough for the beach and to explore the region but without the intense summer sun or the crowds on the beaches.
Sesimbra Hours of Sunshine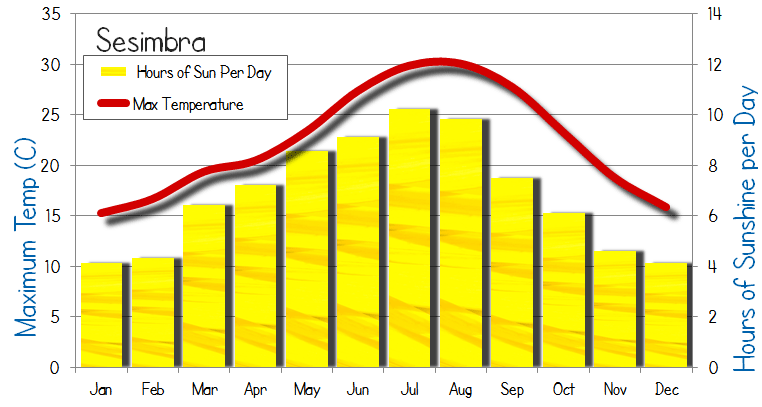 Sesimbra sunshine hours plotted against maximum temperature
Sesimbra has hot bright summer days with over 11 hours of sun per day in July and August. May and June are equally as good for relaxing on the beaches of Sesimbra. The average of 5 hours of sun per day in the winter months is much better than most European cities at this time of year.
Sesimbra Maximum and Minimum Temperature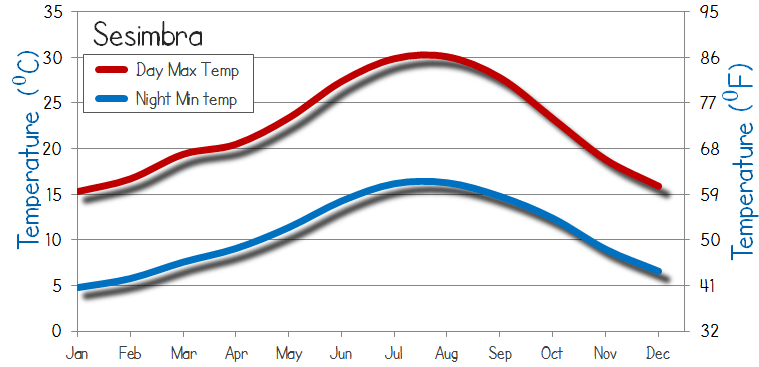 Sesimbra Portugal Centigrade and Fahrenheit Temperature Chart
The above temperature chart displays the maximum day time and minimum night time temperatures in both centigrade and fahrenheit for Sesimbra. This is the air temperature measured in the shade so the temperature in direct sun light will feel much hotter.
Setubal Rainfall
Sesimbra rainfall chart
The above chart plots the amount of rain, in ml, against the number of wet days. Sesimbra has few rain or wet days in the summer and receives mist of it's rain in the winter. April is a surprisingly wet month with more heavy rains than any other month.
Our most popular guides to the Sesimbra region