Cabo Espichel Farol Lighthouse
Cabo Espichel Lighthouse protects the south western tip of the Setubal Peninsula. The white and hexagonal styled lighthouse follows an unconventional style, which is accentuated by the bleak and barren landscape of Cabo Espichel. The Cabo Espichel Lighthouse was constructed in 1790 on the location of an ancient lighthouse that was founded in 1430.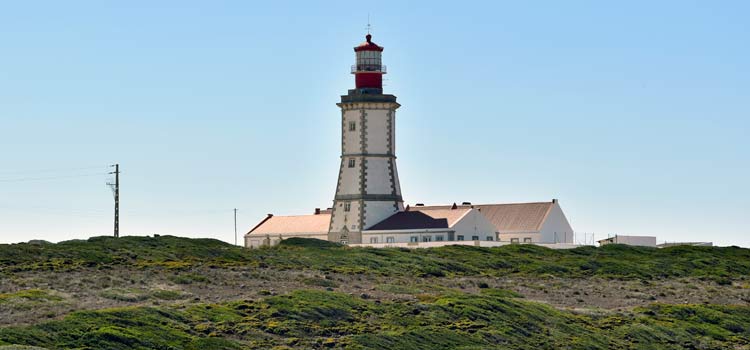 The lighthouse of Cabo Espichel
The present day building is 32m tall and the massive cliffs add a further 130m to the height above sea level. This high vantage point means that the powerful light can be seen for 24 miles (38km) out to sea on a clear night. On days when the coastline is shouldered by thick fog the loud and deep fog horn can be heard for clearly up to 5 miles away.
Related articles: Sesimbra introduction - Costa da Caparica
Cabo Espichel Lighthouse The building
The lighthouse is attractive structure that does not follow more recent conventions and designs of lighthouses. The tower is formed of six flat walls that combine to form a hexagonal structure, the lower portion of the tower as an inward incline with the top third is vertical. Each of the walls is painted the traditional white of Portugal and the wall joints are detailed with stone brick work. The ground level buildings are a later addition to the complex, being constructed in 1900, and add a line of symmetry to the entire facility.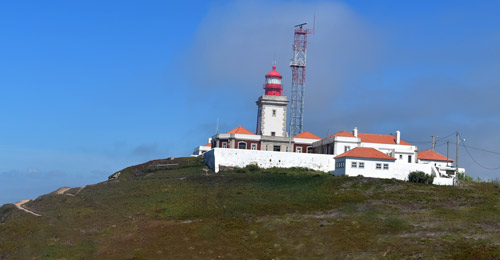 History of the Lighthouse on Cabo Espichel
The original lamp, that was in operation from 1790 to 1865, was a massive oil fired lamp and could be detected over 10 miles.
This original light was essential to the coastline of the southern Setubal Peninsula as there are few towns or villages to illuminated the coast to shipping.
During the 18th century the coastline was so notorious with British shipping the sailors dubbed it as the Black Coastline. Today the lighthouse is fully automated and there is no permanent lighthouse keeper.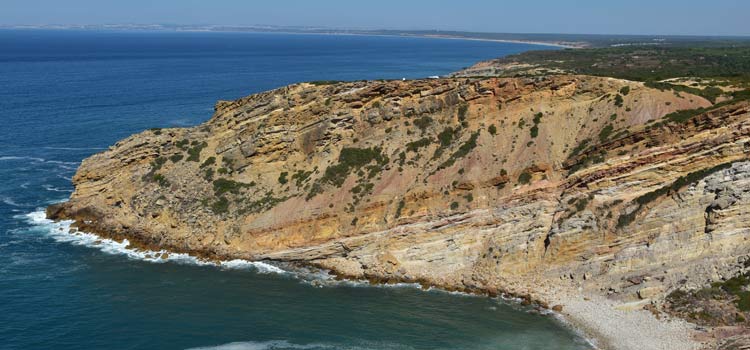 The massive cliffs of the Cabo Espichel
Visiting the Cabo Espichel Lighthouse
Cabo Espichel Lighthouse is part of a scheme to promote the importance of Portugal's lighthouses and is open the public on Wednesdays between 14:00 and 17:00. During this time tourists are able to climb the tower and view the main lamp, there is no fee but all descriptions and talks are in Portuguese.
Sights within walking distance of the Cabo Espichel Lighthouse include; the two sets of dinosaur footprints rocks and the Ermida da Memória chapel.
Cabo Espichel is a good tourist excursion from Sesimbra for those visitors who enjoy wild and dramatic scenery and coastal hikes. The one problem with the area is the almost nonexistent public bus service and a rental car is highly recommended to fully explore the region.
Our most popular guides to the Sesimbra region