Setubal Weather
Setubal is a commercial fishing centre and port which is sheltered from the power of the Atlantic Ocean by the Sado Estuary and the Troia Peninsula.
This close positioning to the Atlantic Ocean strongly influences the weather of Setubal (and the entire western coastline of Portugal) so that the expected temperate extremes are lessened.
In summary Setubal has long hot summer, pleasant spring and autumns, while winters are mild but unpredictable. This article will detail the average weather of Setubal via weather charts.
Setubal Average Weather

Setubal Average Weather
The above chart indicates that Setubal has hot dry summers and mild winter months that can have many gray wet days.
Setubal Maximum and Minimum Temperature

Setubal Centigrade and Fahrenheit Temperature Chart
The above temperature chart displays the maximum day time and minimum night time temperatures in both centigrade and Fahrenheit for Setubal. The chart details the average air temperature which was recorded in the shade, the temperature in direct sun light will be much warmer.
Setubal Hours of Sunshine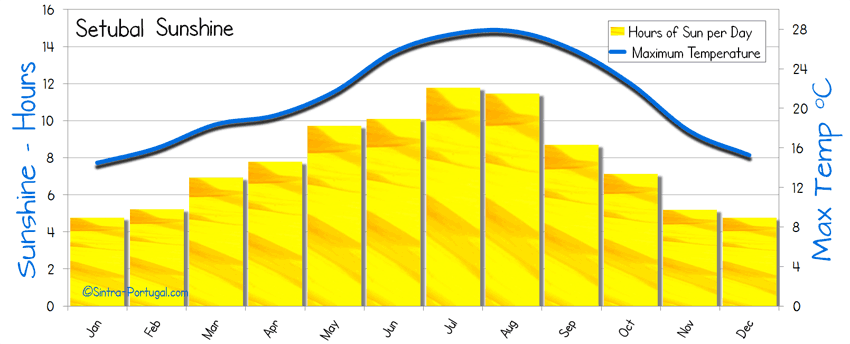 Setubal sunshine hours plotted against maximum temperature
The amount of sunshine Setubal has uniformly increases from winter through to the hot summer months and equally decreases back to winter. The sun is strong enough for the beach from May through to September.
Setubal Rainfall

Setubal rainfall chart
Setubal has dry summers and wet winters but the amount of rain in the winter is significantly less than many other European counties.
Our most popular guides to the Setubal region