Dolphins of Setubal
The Estuário do Sado is one of the few places in the world that a pod of dolphins actively lives within a freshwater estuary.
The pod of approximately 28 bottlenose dolphins is routinely spotted swimming, hunting or playing in the waters south of Setubal. One of the more popular activities while in Setubal or Troia is to join a half day dolphin watching trip and tour of the Reserva Natural do Estuário do Sado.
As the Sado estuary is a relatively small body of water, there is a very high chance of spotting a dolphin, and certain tour companies boast a 95% spotting rate.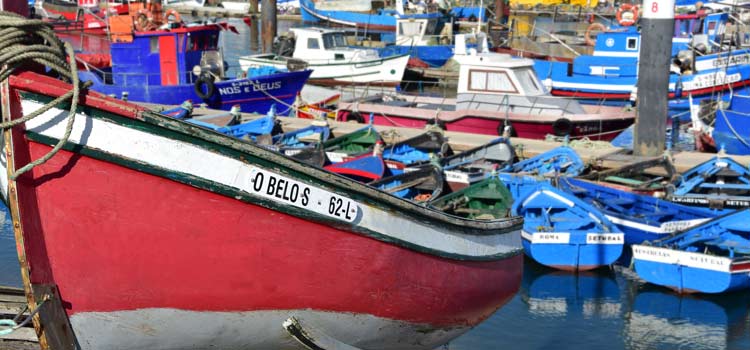 The colourful fishing fleet of Setubal
Setubal Dolphin Tours Information
There are three tour companies which offer the dolphin sightsee tour which typically last 3 hours. Each company has two departures per day, one in the morning and one in the afternoon. Nautur (Nautur.com) operate a standard ferry and tours cost €30/€15(adult/child). Vertigemazu (vertigemazul.com) offer a slightly more refined and eco-friendly trip that costs €30/€20, €35/€20 (adult/child low/high season). Troia Cruze (www.troiacruze.com) provide the tour on restored and traditional sailing boat – this is the most appealing method to go dolphin spotting but is the most expensive at €45.
There are lots of other tour guides who have stalls along the harbour front in Setubal.
Further Information about Setubal Dolphins
It is rare to view Setubal's dolphins from the harbour but there are numerous boat cruises/tours available to spend an afternoon searching for them. The pod has taken up residence in the Sado estuary as there is an abundant supply of food, especially squid, and the waters provide shelter from the Atlantic Ocean.
There was a decline in dolphin numbers, but the group has been successfully breeding and the local government has made a conscious effort to limit pollution, over fishing and harassment of them in the Reserva Natural do Estuário do Sado.
Our most popular guides to the Setubal region