Museu Oceanografico and Arrabida Fort
The small but informative Museu Oceanografico is housed in the Fortaleza de Santa Maria (Fortress of Our Lady). This compact, pale yellow coloured fort once guarded the fishing port of Setubal and the Sado River estuary with its prominent position on the Portinho da Arrabida headland.
Inside the fort the oceanic museum is divided into two distinct sections, one with salt water aquariums exhibiting common marine life along the Setubal coastline while the other section displays historical preserved aquatic species. The main draw of Portinho da Arrabida national park is the stunning scenery but the Museu Oceanografico and the Fortaleza de Santa Maria fort together make an interesting brief side excursion.
Tourist Information for the Museu Oceanografico
The Museu Oceanografico is open Tuesday to Friday, 10:00 to 16:00 and on Saturday 15:00 to 18:00. The entrance fee is €3.50/€1.50 (adult/child) and typical visits last 30 minutes. The fort and museum are easy to find as they are located on the side road that leads to the Portinho da Arrabida beach.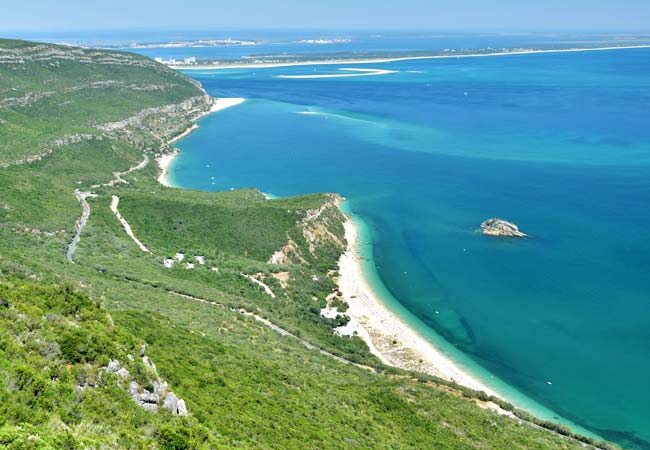 The lush forests of the Arrabida national park
History of Fortaleza de Santa Maria Arrabida
John IV (1640-1656) proposed a line of defences along the Lisbon coastline to provide protection from raiding pirates or Moors from North African but it was only under the reign Pedro II (1670 – 1676) that the Fortaleza de Santa Maria Arrabida was constructed. The fort provided protection for Setubal and the small harbour servicing the Arrabida Convent high in the hills.
The present day fort originates from 1749 when the fort was completely redesigned under the rule of king John V to provide great security for the region. The fort was repaired after the 1755 earthquake but slipped into insignificance as methods of ocean war evolved. The Oceanographic Museum moved into the building in 1991.
Our most popular guides to the Sesimbra and Setubal region